Arusha Sundries Ltd
is a FMCG (Fast Moving Consumer Goods) national distributor in Tanzania, with its operations mostly concentrated in Northern and Eastern Tanzania. The company was established in 1967 by MR BUDHRAM AGGARWAL and now Directed by his son JAGJIT AGGARWAL and grandson SANDESH AGGARWAL. It is a family run business in its 3rd generation and has grown ever since its humble beginnings to being a multi-divisional outfit today. It enjoys good credibility and relations in the Tanzanian diasporas due to its rich history. ASL is one of the largest, of the few well organized distributors of FMCG products in the country and has traditionally been a preferred distribution partner for various manufacturers within Tanzania. It specializes in forming distribution partnerships with large manufacturers to achieve a win-win solution whereby both parties focus on their part of the value chain to extract best results in production and market share respectively. The company has loyal customer bases established over the years.
The company has successfully established with the help of its suppliers, a number of prominent brands in the region.
• CHAI BORA – packed tea
• PEMBE – Wheat Flour
• Sun Fry - Vegetable Cooking Oil
• Bahari Fry – Vegetable Cooking Oil
• Kuku Soap – Laundry Bar soap
• Manyara Sugar – Sugar
The ASL team possesses essential skills required to develop, and manage the distribution business. It has to its advantage a strong learning curve experience which is essential to drive the business forward in a coherent manner.
Sales and marketing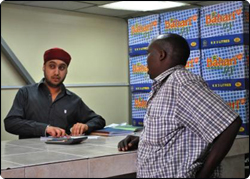 The distribution of goods is carried out through various channels as follows:
i. Direct sales to customers through Van Sales (Door to door delivery in rural areas)
ii. Sales booked through sales executives (order booking)
iii. Sales through the company's outlets, primarily 3 located in Arusha.
The team of salesmen, and branches is lead by a country-wide sales manager, and accounting is completed through an integrated system within the company. All goods are centrally procured, however many are disbursed to the individual branches through the company's fleet of trucks directly from the manufacturers, depending on geographic location.